30" wide x 26" high.
Your choice of 3 3/4", 4", 5 3/4", or 6" deep. We also have a combo 5 3/4" and 6" deep cabinet [shown in white at far right] which only needs a 3 3/4" or 4" deep wall cavity because the other 2" remain on the outside of the wall.
Comes with three adjustable shelves.
In addition to a mirrored door, we also offer the following wood paneled door styles.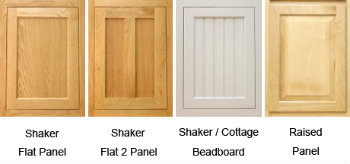 We offer ALL 3,645 Benjamin Moore paint colors for only $15 more! All come in a satin sheen. If needed, CLICK HERE to visit the BENJAMIN MOORE WEB SITE.
Our Milk paints come in 20 primary colors, and most also come in 3 additional shades for a total of 68 colors which are especially nice when distressed. All are protected with a satin poly top coat. CLICK HERE FOR COMPLETE MILK PAINT COLOR CHART