The outside dimensions of our narrow recessed cabinets are 16" wide x 28" high. A rough opening slightly larger than 14" wide x 26" high is needed.
Your choice of 3 3/4", 4", 5 3/4", or 6" deep. We also have a semi-recessed 5 3/4" and 6" deep cabinet which only needs a 3 3/4" or 4" deep wall cavity because the other 2" remain on the outside of the wall.
Comes with three adjustable shelves. But if ordered with an open shelf or three apothecary drawers, they come with two adjustable shelves inside.
In addition to a mirrored door, we also offer the following wood paneled door styles.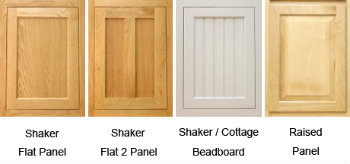 We offer ALL 3,645 Benjamin Moore paint colors for only $15 more! All come in a satin sheen. If needed, CLICK HERE to visit the BENJAMIN MOORE WEB SITE.
Our Milk paints come in 20 primary colors, and most also come in 3 additional shades for a total of 68 colors which are especially nice when distressed. All are protected with a satin poly top coat. CLICK HERE FOR COMPLETE MILK PAINT COLOR CHART